alexgeorge
: I must share this with all of you! Look what Dean has come up with for Hieradon. Note the similarities: palm and date trees in the horizon, the city merging with the heavens (the stars on the right), the many Greek and Egyptian style temples that remind one of Alexandria.
Hieradon would be different from this picture in that the city centre rises up in rings like coins stacked with gradual increases in height and with an apex which is not much narrower than the base. But, other than that, the picture holds all the mystique and exotic orientalism of Hieradon.
NicciFaye: That is truly an awesome picture. Of course, with Dean and his many talents! -
alexgeorge: I couldn't agree more. Look at this new one--it's the double doors leading into Titenkha's palace:

-
alexgeorge
: I'm so excited! My book is featuring on Dragons Heroes Wizards, and there's a personal interview with me as well, answering quirki questions. Feel free to visit. Here are the links:
http://oldbatsbelfry.blogspot.com/2014/03/interview-alex-george-author-of-under-the-dragons-claw.html
https://twitter.com/Mulluane/status/448853362738749441
http://oldbatsbelfry.blogspot.com/2014/03/indie-spotlight-under-dragons-claw-by-alex-george.html
pipersfancy: Hey! That's great! Congratulations - I'll be sure to check out the interview! -
Margaret Snowdon: Congratulations for your nomination for Book of The Month, my friend - so well deserved. Good luck. M -
Dean Kuch: Congrats on being selected for FS Book of the Month, Alex. You know you got my vote! -
JB Lynn: Many congratulations to you, and I loved reading your answers to the wacky quiz! I'm keeping my fingers crossed for the Book of the Month results. -
alexgeorge: Thank you so much. I've made friends on FS whom I will treasure, always. -
Maureen's Pen: Way to go my friend - what a fabulous artwork too. Big Congrats!!! -
alexgeorge
: Hello, my fine author and poet friends. It's been a while but I will endeavour to post at least once a week. Yep, you guessed it: got an exam on 24 Jan, and I'm still not in the clear after that.
I have three more modules and a thesis to go for spring and summer. Good news is, I'm doing well, getting a little chubby from lack of exercise, but still enjoying reading, writing (occasionally--so that's a bad thing: I would have preferred my writing could be kept up), and even finding time to watch a movie or two.
I'll continue to review and to chat with you guys, so not to worry: I don't intend dissappearing on you (like Bilbo did on his hundred and eleventh Bday!!! Remember that one?)
Keep well...and keep writing and posting! The world out there needs us, hehe.
JB Lynn: Welcome back dear friend. Looks like you and I are returning from our holiday hiatus at about the same time. Good luck with your studies! -
alexgeorge
: Hi guys!
Well, I'm back, on and off. I finished an exam last Friday and handed a project in last Tuesday. Things worked out well. Now I get a bit of a breather until the next round.
I'll be reviewing infrequently for the time being. Nice to be back--even if it is intermittently.
DIS-illusioned: Uh, and you're who, again? ...
LOL Welcome back, buddy. Good luck with your studies. :) -
alexgeorge
: This one is from--you know who--Dean Kuch. I love ships and sailing, don't you?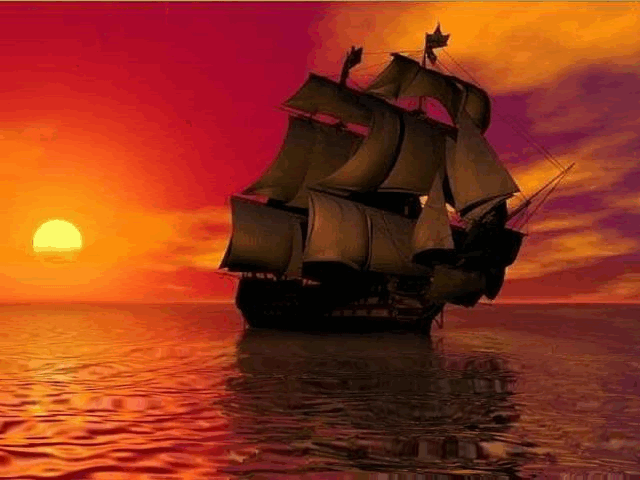 nor84: Yes! My grandfather, whom I never met, was a deep sea diver who repaired these things. -
shelley kaye: is that the nina, pinta, or santa maria?

;-)

-
alexgeorge: Don't know, you would have to ask Dean :) -
Curly Girly: Wow! This is a beautiful image. Great colours! -
alexgeorge: Thank you. They've all been sent to me by Dean Kuch, a poet on this site. -
JB Lynn: Hey Alex - Congratulations on being nominated for the Book of the Month! I'm keeping my fingers crossed for ya. :) -
alexgeorge: Thanks, Jenn!

I only just realised. Haven't visited the site for four days. I'm handing in a project at my master's course at Uni, in two weeks, and have been working like crazy on my research assignment. -
alexgeorge
: And, in case you guys were wondering, here's a Gathzul riding on the back of a beast of the Dark (curtesy of Dean Kuch):
lindalcreel: This is amazing. What a combo the two of you are; your writing and his artistry. Love this:) -
alexgeorge
: Dean has posted a poem that is dedicated to me. It's called "Such a Fantasy."
I am truly humbled by this poem and the author's notes. I'm so glad to have been able to touch the hearts of my friends here on FS.
It is my fervent wish to one day gain a contract with a reputable agent--and publisher--so that I will be able to continue to do that which I love most, and that is to write fantasy to the best of my ability with respect to my readers.
Thank you so much to every one of you for your support,
Your friend, Alex George.
JB Lynn: You absolutely deserve it, you lucky devil! Hold tight to that dream. I believe it will happen. -
Dean Kuch: You are well deserving of the recognition, my friend. What a wonderfully talented writer you truly are, and a gentleman to boot! -
alexgeorge
: I just love this picture.
Unbeknownst to my friend, Dean, he has inadvertently stumbled over a picture of Mernadje. She is an Ishbad martial arts student trying to obtain weapons master status so she can enter the Queen's Guard.
Fabulous!
lindalcreel: These pictures are amazing, Alex. How great is is, that they add faces to your story? Thanks for sharing. -
Dean Kuch: Thank you Alex, my fantastic friend, your work so inspires! -
Mystic Angel 7777: Dean is utterly amazing! I wonder what it would be like to be in the same room with you two for like five minutes 0 would any of the awesomeness rub off? One can wish! -
alexgeorge
: Guys! I don't believe it!!!!!
Dean Kuch just found a perfect picture of Sergeant Dugal of Maudiers, who appears in Chapter 85!
Mystic Angel 7777: Leave it to Dean to find the man of my dreams and not provide his address or phone number. *Sigh* -
alexgeorge
: I just love this picture of the Alcavian Templars, curtesy of Dean Kuch:
JB Lynn: These are incredible! Dean Kuch is very talented. -
lindalcreel: These are amazing Alex. Imagine if he made the cover for our books? He is really talented. Thanks for sharing! -