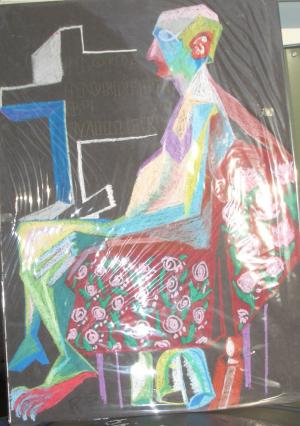 Background
Liz & Linda rescued 5 Native American teens from a trafficking operation. Then one of the girls rescued 5 more from a van. We continue hearing stories and learn something we may have wondered about

As they sat down to rest, everyone's attention was drawn to Strong Heart. Clearing her throat, she began in a shaky voice, "I was alone in that room in that house."

Eyes of the Owl's mouth involuntarily opened. That's why he put only four packs in the closet, and yet I found five in there. That's why there were only four pairs of shoes in the bag when Velvet Dove opened her pack. Strong Heart's were already in hers.

Strong Heart took a big swallow before being able to go on, "I watched as they dragged you in, with bags on your heads, one at a time, plonked onto that ratty couch."

"I realized that was what I must have looked like. I was signaled to say nothing. I didn't have the voice to anyway, with the giant lump in my throat."

"I was sad and relieved at the same time to see you. To find out if you were anyone I knew. You could have no idea I was there before you and no one dared speak even when they could see each other. There were no happy introductions."

A strange solemnness surrounded everyone. No one's eyes left her teary face which matched theirs. "I did... didn't dare let myself fall asleep the whole night."

Fixated, they knew she was right; the bags had never been removed until all were in the room. They had no idea there was anyone in there ahead of them. Images of terror increased with the thought of any of them spending one moment alone in that house.

Being of different ages and different parts of the reservation, they did not all know one another nor each other's story.

Strong Heart's backstory was unnerving. "My sister was a survivor of abduction for human/sex trafficking just like us."

She shuddered as the realization hit her," We could be on our way to Billings, by now. That's the first big money- making city they shipped her too."

"Just as Dragonfly told us. My sister, Sweet Piper, learned to make things very difficult for her captors. One of her talents was to make her hands so small she could slip out of the handcuffs. It just so happened, rather than our zip ties, they used metal handcuffs,"
"She worked on her ankle restraints which were zip tied, until she was able to sneak out of the building. But in no time, was tracked down and returned to her keeper."

Star couldn't help but interject discouragement and disgust, "All the work for nothing!"

"Oh, she was not going to make things easy for them. After her second failed attempt, she was branded to show ownership. As they say, 'The third time's a charm.' She finally escaped for good."

"She was still up in Billings so she knew her way around and how to hide better. She was picked up by a safe person and returned home."

"Her rescuer wanted to take her to the police station but she told him they wouldn't do anything about it. They'd say, 'It's Reservation business, not ours.'

Linda, with her striking sarcastic tone she used when nothing made sense posed a rhetorical question , "Hello, they were in Billings. That's not the Reservation. Is it?"


"Sweet Piper knew it was no use, but to please take her home. Everyone was so happy and relieved to see her. But she was not the same. She underwent the same healing we will."

Directing her attention to Liz and Linda, "This involves a medicine person smudging us, immersing us in smoke from burning sage.There will also be an extensive time spent in a sweat lodge to purify our mind, body, soul and to relieve our trauma."

Turning back to everyone, "She seemed to be adjusting after being elsewhere for five months but slowly began finding unhealthy coping skills."

"They came from the non-Native doctor they took her to. That may have not been a good idea. Slipping deeper into depression, she began taking too many of what she called her 'nerve' pills.

She was told by the non-Native doctor they took her to, "You have PTSD, known, as post-traumatic syndrome disorder. These pills will help you."

Her bitterness reached down into everyone's heart, "Those pills, I swear, are the reason she got so heavy into heroin. She was high all of the time. Now she's in a coma. Well, that's one way to get rid of her nightmares."

No one needed to ask where she'd gotten the heroin; they all knew plenty of their neighbors, all ages who were always 'chasing the high,' as they called it. The poverty and depression on the Reservation didn't help.

Strong Heart reported one of the thoughts sustaining her that lone night during her captivity, "My sister was lying in a coma. I prayed to the Creator that my own suffering would direct proper healing on all levels for her.

The group could be seen wiping their tears streaming down their faces, some with it dripping from the tips of their nose.

An appropriate length of time passed after silence was given to honor what Strong Heart had just shared. Sage knew, this is it, I'm saying it now.


Inhaling, and exhaling, sitting more erectly as if clarity had just occurred. "I believe I have been called to be a medicine woman.

There were smiles all around when they heard this. At this point, they welcomed such a hopeful proclamation. The number of men and women medicine people was concerningly decreasing in their numbers. Acceptance of such a vocation was necessary for their tribes to continue.

She explained, "I know a person doesn't just wake up one morning and say, 'I think I'd like to be a medicine person.'

"We are born with a special kind of power, gift, talent, knowledge. Strong Heart's displaying of such courage has helped me confirm this. I need to find my Path of Power."

Turning her head toward Strong Heart, "I think you may not realize that you are in the process of finding your Path of Power."

Strong Heart tilted her head, with an inquisitive facial gesture, looked up to the right. Then shook her head in acceptance.

For Linda and Liz's benefit, "To find one's Path of Power is to discover slowly, over time, what the Great Spirit wants of our life."

To all, "I'm becoming aware of how these powers are not my own. They have and always will belong to the Great Creator and the people. I have felt drawn in this direction since as early as I can remember."

A few in unison said, "That's going to be hard work."

"Yuh, it's not just on weekends or for a couple of weeks. It's a lifetime of dedication. It'll be a challenge that will be rewarding for all of us."

"Right now, I look forward to the many hours of making prayer, and chanting during sacred sweats. This journey will have prepared me, some, for the 10-days of fasting for vision quest on the sacred mountain top."

More agreement from many, "That's for sure."

Liz could see some of the others' facial muscles transforming from guilt weighted tension to relief. They appeared to understand that they had not been called. They would not have to do all those hard things.

After a moment of reverence and greater admiration for Sage, Spring Blossom suggested it was time they move to the next room.




Author Notes
Character list


Liz.....one of the women who rescued the girls from the house

Linda...one of the women who rescued the girls from the house, one Liz's best friends

**Van girls

Sage....one of the teens in the van, friends with Turtle and Dragonfly, announces she is called to be a Medicane Woman

Sky......one of the teens in the van, friends with Star

Star.....one of the teens in the van, friends with Sky, her pack had the van girls' shoes

Turtle....one of the teens in the van, friends with Sage and Dragonfly, was frightened when Velvet Dove came scratching at the van window

Dragonfly.....one of the teens in the van, friends with Sage and Turtle

**House girls

Strong Heart....kicked at window to get iron grate off, her sister Sweet Piper, was earlier abducted

Sweet Piper .....Strong Heart's sister, abducted earlier, in a coma

Eyes of the Owl....made sure the plan of deception was solid, got into closet for packs with shoes, saw her best friend Rabbit's pack, made sure everyone from the house had shoes

Spring Blossom......first at the house window, helped remove the window block. cave leader

Velvet Dove.....Planned the deception, rescued the girls from the van....made sure the van girls had their shoes and packs, her pack had the house shoes in it, had a very reassuring voice

Runs the Field....ran up the hill for the deception

***********************************************
I'd like to acknowledge Renate-Bertodi for their fascinating picture. This is one section of many adventures experienced by Liz & Linda walking through fog and haze, away from their stranded car toward civilization and a garage. They are in Montana close to the Crow Nation Reservation. There is an epidemic of cases of Native American women and children being abducted, missing or murdered.