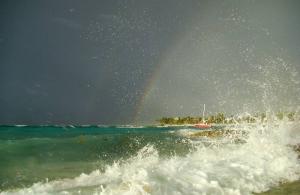 Therefore I Am

I am tropical and warm with music and song
Mystery and adventure surround my being
Growth and challenge I strive for
As I look to the stars for guidance
As I travel distant lands, my age is endless
I can be seen in your dreams, in your fears
In your laughter and in your pain
I am the fountain of spiritual youth continuing to grow
Into the whimsical, wispy, protective willow tree
My love encompasses life and is everlasting
Peace and truth are my ideals for Mother Earth
I carry a torch for light, wisdom and strength
This light shines on those who have lost hope
Strong am I as the wind in a dark grey storm
Soft am I as the gentle zephyrs on a crisp fall day
Leaves crackle beneath my feet, I notice I am changing
I become the color crimson like the cardinal in flight
I am endless like the continuous flow of a stream
My whisper is the violin caressing one's soul
I am a work of art and the power of a song
Echoes of creation penetrate my very being
I boast of one such magnificent creation
I am encompassed by a moment in time
Andrea speaks to me as I see God's face in the sun
I know not what he is saying for we speak in different tongues
I only know the warmth and beauty of his singing
The power and strength of his very being
I surrender my soul for this is my moment
I am alive, therefore I am!



© Copyright 2023. moonsunrise All rights reserved.
moonsunrise has granted FanStory.com, its affiliates and its syndicates non-exclusive rights to display this work.