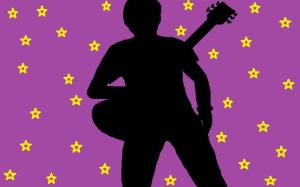 Again, the joy of fiction, that which was not, can be.
In my story, The Dinner Seating Chart, I recounted an evening I arranged for several legendary entertainers to be at a dinner party. Each guest performed a song or two. The Master of Ceremonies was Johnny Carson.
Fiction allowed me to have living legends and those who passed on. Everyone was in their prime.
The guest attending and performing included Dolly Parton, Frank Sintra, Sammy Davis Jr., Princess Diana, Sir Elton John, John Lennon, Linda Ronstadt, Jerry Butler, Dinah Washington, Nora Jones, Nat King Cole, Kate Smith, Ray Charles, and George Harrison.
My dinner date at our table for two was Marilyn Monroe.
However, I made a faux pas! I failed to include members of FanStory. Several have weighed in on my lack of class. To correct my error, I will include them at the after-party.
***
The party is being held in the Cedars Gardens, a beautiful indoor/outdoor venue north of Dallas. This venue easily accommodates several hundred people. This is a good thing, as new guests are arriving.
Charlotte Morse, who wanted to be here, joins fellow FS member Barbara Wilkey in walking into the main dining room with Whitney Houston. Barbara and Charlette ask the famous singer if her "Bodyguard" Kevin Costner will be attending. Whitney replies, "Sadly, dear Kevin is on set in Montana, but let's get a glass of wine."
BB King joined the group and is telling Annmuma the history of Lucille, his legendary guitar. He is plugging it into the sound system because Chuck Berry is joining him on stage. Chuck will be teaching his famous "Duck Walk" dance to JannyPan and Wendy G, who claim they were too young to know some of the older guests.
LJButterfly is playing one of the dueling pianos with newly arrived Billy Joel. Willie Nelson smiles as he plays Trigger, his well-worn guitar. All sing harmoniously with Patsy Cline in an exciting version of "Crazy."
There is already talk that Lucille and Trigger may get together for a "Jam Session" later.
Nomi, who wanted to be a fly on the wall without a fly swatter in the room, is now sitting with Frank Sinatra, Sammy Davis Jr., Patti Page, and Dinah Washington. Frank is explaining how he started the "Rat Pack." He is also demonstrating the secret handshake.
Sandra Mitchell said she wanted to be invisible. However, the novelist has drawn the attention of Margret Mitchell (no relation), Harper Lee, and Elvis Presley. Their conversation is lively but confidential.
Roy Owen just showed up after a private jet brought him from down under. Coming with him are Sir Ringo Starr and Sir Paul McCartney. Roy and the famous fab four lads have roots in Liverpool. After comparing notes, Ringo asks Roy, "Didn't you use to go out with Cross-eyed Mary McGee?"
Roy says, "No, I left Liverpool when I was eight."
Paul says, "Ringo, I think you are thinking of Mick's first girlfriend."
Carol Hillebrenner tells Kate Smith she remembers crying the first time she heard Kate sing "God Bless America." Kate gives her broadest smile and says, "Sit down and let me tell you about the time I first performed on the radio."
GWHARGIS is sitting between Nate King Cole and George Harrison. Nate is regaling the two with tales of his career and his pride in his daughter Natalie. George adds a few memories of his own, including the first time the Beatles appeared on the Ed Sullivan Show.
Sanku says she doesn't know all the entertainers since she is not an American. Nora Jones introduces herself and says, "You may remember my father, Ravi Shanker. I will get George Harrison and my dad to play the sitar. We will play some interesting things you may know."
Sanku says, "Now, that would be very cool."
Nora replies, "After we finish, I will introduce you to the Americans; I think you will like most of them. But you got to watch out for Sinatra and Sammy."
The last person to join the festivities is Tom Horonzy. Tom thought his invitation to the original dinner party was lost in the mail. Truth be told, I did not want a Horonzy horning in on my date with Marilyn Monroe. But I did send a special invitation to the after party.

Tom is now talking to Miss Monroe about his career as a seaman. Marilyn coos, "I just love a man in a uniform."
Woe is me.
As the sun rises and the after-party is a memory with all the guests gone, Lyenochka asks, "Terry, now what?"
"I got get some big trash bags and a broom. My deal with the venue is that I have to do trash."
"I'll help."
Helen is such a good person.