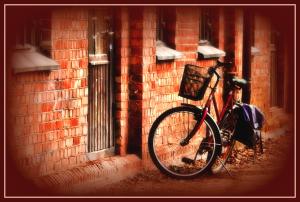 The morning I found
my first ten-speed bike
under the Christmas tree,
I planned to outrace
the harshness and threat
of Dad's booming voice.

That afternoon,
I pedaled down the boardwalk,
feeling brazen and brash
when the winter chill
slapped my cheeks red.

I passed a cottage
with a wind vane
shaped like a rooster
pointing away
from home
and toward the outside
carnival at Atlantic City.

I snapped down the kickstand
and bought an ice cream cone.
Gulls circled
near the long pier
where a few hardy fishermen
cast their lines into the choppy ocean.

Deep breaths of salty air
untied knots
of fear yanked tautly
inside my chest.
Dad was too far away
to touch me.

I stared into the eyes
of a gypsy fortune teller.
The dark mystery
of her pupils offered
me a secret and a future:
my life could be fancy-free.

I kept the bicycle
in tenth gear
on the ride home.
Orange and green
wheel spike beads
rattled with applause.
My legs burned.

I leaned my bike
against the steps
and hustled
into the house.

That evening
before dinner,
Dad lost it,
the turkey and rice
grew cold in the kitchen.
Mom finally stored
the Christmas feast
in the refrigerator.
She had learned
how not to cry.

That night,
Dad's screams
were hot as a blowtorch,
welding my heart
into twisted metal,
scorching all hope
of that fortune teller's
carefree future.