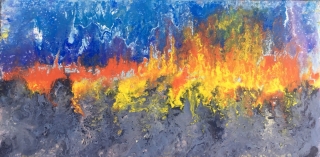 Oh man, I only have five minutes to save some more things from the house fire. There are no people or pets to worry about. The pictures are all in the cloud. What else is priceless for me?
I got that unopened bottle of Blanton's Single Barrel Reserved Whiskey. It cost $350. I'm pretty sure insurance will not cover the cost of it. Okay, it may not be priceless, but I will need it to get through the night.
Good thing I got one priority right.
I saved my autographed program by Hank Aaron. Hank is not around to sign another one.
In the back of the closet, I found my high school letter jacket for football. I know it's been fifty years, and I am too fat to wear it, but it still brings back memories of the season we went 2-7. It was the first time our school had won two games. And who could forget Susan Rafferty? Not me.
I can make one trip back in. I see the fire trucks coming. What to get?
The recipe accordion file. All of my wife's handwritten recipes and some of her mother's recipes. Plus, she put all the clippings with recipes from newspapers and magazines in the file. Those are priceless. My wife and her mother have both passed away, but these notes share their joy of cooking. We didn't have any children. But some nieces or nephews might be interested. Besides, I don't want to lose them.
On the way out the door, I grab the Bible Mother gave me on my sixteenth birthday. It was not my "Speed Bible" I used to win all those sword drills when I was a young boy at the Baptist Church. I wonder what happened to the "Speed Bible." This Bible has a written inscription about my birthday and large print. I guess Mother knew I would get old and have weaker eyes.
It is a sad sight to watch this house burn down. I think I will open the Blanton's and the Bible. That is a double recipe for inspiration, and I will remember Hammerin' Hank and the lovely Susan.
Author Notes
Five Items: Blanton's Bourbon, Progam signed by Hank Aaron, HS Letter Jackey, File of recipes, Bible.