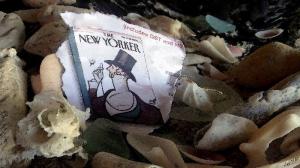 Sara Spittlebomb, editor-in-chief of the Newly York Magazine, is in a meeting with her director of fiction, Hairy Gaslight. They are evaluating the three finalist fiction submissions for the December issue.

The publication for December is always the largest. Ads are sold at a premium. The magazine has an extra fiction story and increases the number of cartoons. The volume of magazines printed, sold, and read is easily double that of any other month.

According to Ms. Spittlebomb and Mr. Gaslight, this is the most influential magazine of the year for the premier publication in the world.

"Sara, we are going to use two fiction pieces for December. I've narrowed it down, and we need to select two of the three finalists."

"Hairy, we have an outstanding nonfiction story, Why Donald Trump Should be in Jail, by Hillary Clinton. The photo on our cover has Hillary wearing a Santa hat and licking a candy cane. A blockbuster fiction or two would be great."
"My first choice is a no-brainer; I was a Teenage Mutant Beatle, A Rock and Roll Story."

"Oh, that does sound good!"
"It is. There is a great song in the story that the Turtles wrote but didn't record. It's called, You can beat my shell, but I ain't coming out."

"Love it."

"Our other two choices are My Life as an Heiress by Wendy Madoff, daughter of Bernie. And The Sperm Donor by Terry Blockhead."

"I know Wendy, but her story sounds like nonfiction."

"Trust me. It's fiction. In the story, she sets up an investment firm called In Memory of Daddy. The investors are all victims of her father's pyramid scheme."

"That is pure unbelievable fiction, and I am guessing the Sperm Donor is about sperm?"

"Chief, you are right as usual. It has lots of sperm. Mr. Blockhead also has an alternative title, The Super Lawyer."

"So, he can't make up his mind?"

"Something like that. The super lawyer is the sperm donor. It happens during his law school days. Years later, he finds out three of his ex-girlfriends received the sperm he donated, and all three got pregnant."

"That is kind of an interesting fictional premise."

"It is, but it's got problems."

"What kind of problems? I don't like problems."
"He left out an 'a,' and there are three extra commas. And worse, he changed tenses in four paragraphs."

"Umm, How long is it?"

"4200 words."

"Hairy, we are editors."

"I know, but you are editor-in-chief. I am the editor of fiction. We are executives; we don't correct!"

"You do make a good point. Has this Blockhead guy been published somewhere?"

"Yes, on a writers forum called FanStory. Do you remember that guy Tom? He was a senior editor at the New York Times. Tom resigned over the Pulitzer Prize scandal about fifteen years ago when their writer lied about writing the winning story."

"Of course, I can't forget that. That story never happened. Tom got a raw deal. He had been duped like everybody else."

"I know, but it was either quit or be fired; guilt by association."

"Tom was a good guy. I thought he was cute. But back then, I thought all senior editors were cute."
"When Tom left the Times, he started a website, Fanstory, and this is where Mr. Blockhead writes. I monitor it, just in case there is anything I need to know about."

"How is the website doing?"

"It's going okay. The lady novelists are excellent. They have members from all over the world; and some good writers. There are even scriptwriters, poets, and short story writers."

"They have poets? We can always use a good poem or two."

"Sara, most of the poets believe in God."

"I see; well, that won't work for us."

"Tom's website allows anyone to join, and there are many diverse opinions."

"Hairy, that almost sounds like a subversive cult."

"Let's get back to Blockhead and his sperm. It does have another issue. The story is set in Texas."

"Texas! You know we can't have a story set in Texas. It is the most infamous of the red states. They got all those Bushes down there."

"There is something else. The sperm donor is some super lawyer who argued the case before the Supreme Court that made gay marriage legal. Anyway, one of the lawyer's ex-girlfriends turns out to be gay and gets pregnant with his sperm donation."

"That part would work for us. But Texas is a big problem."

"Sara, I am thinking you and I are executive editors."

"Hairy, I think you are thinking what I am thinking."

"Yes, I am. We have Terry Blockhead change his location to Connecticut."

"Exactly."

"Sara, we will keep the main character as a lawyer who does the gay marriage thing, but let's also make him a super hedge fund manager with offices in the city."

"That's good. One of the investors in the hedge fund can be Wendy Madoff. Maybe one of the women who gets pregnant is a nun. No wait, even better, we will make her a congresswoman like AOC."

"That is brilliant!"

"It is too bad we can't work Hilliary into it."

"What about Chelsea?"

"How long does sperm keep?"

"Who cares? It's fiction."

"Excellent, let's do it."

"What do you want to do about those commas and tenses?"

"We make the editorial decisions about the story. Have an intern handle the corrections and deduct the cost from Mr. Blockhead's check."
"Okay, we will also deduct the executive editing fee. Mr. Blockhead will owe us seven hundred-fifty dollars to publish his story."

"Sounds good. Tell him he gets five copies of the December issue at no charge. We will give him one signed by Hilliary."
Author Notes
Yes, this little story was submitted to that famous magazine in New York City. Thanks to Wayne Fowler for the ending idea.