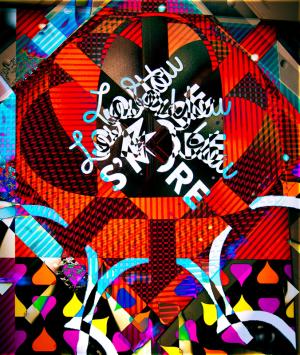 It was October 1963, I was nine months married after a brief courtship and expecting our first child in three months.

Ronnie and I first met in the apartment house hallway where my roommate, Merilyn and I lived. He was older, a Yankee and foreign to our rather limited life experience. We knew he was not someone to cultivate as a friend. Still, we were in Dallas where the only people we knew were my aunt and uncle who lived across town. We longed for the companionship of youth and we felt safe when we were together.

Halloween was coming and we were antsy for something to do. The guys who lived across the hall mentioned something about going to The Cellar in Fort Worth. Neither of us had ever heard of it but it sounded like an adventure, and we were always up for an adventure; the key to safety was to go together. Unfortunately for Merilyn and me, everyone had dates except for two guys who often visited our neighbors. Ronnie Mullen and Eual Van Horn agreed to escort Merilyn and me; Merilyn's date was Ronnie and Eual and I were a couple for the evening.

Ronnie was the only one who had a car, so we double-dated in his car. We soon found ourselves in a club where prizes were given to the patrons wearing the least clothing as we sat in our wool skirts, sweaters and saddle oxfords. My date quickly became inebriated. Ronnie who, as driver, was not drinking, became more of a chaperone than Merilyn's date. No sparks flew between him and Merilyn and that was their one and only date.

Christmas came, we needed a ride to Tioga, Louisiana and Ronnie had a car. He took us home and, although not welcomed with open arms by our parents, he found a nearby hotel and stayed around to bring us back to Dallas.

On February 1, 1963, Ronnie and I were married in a Baptist preacher's home in the Casa View area of Dallas. I was blessed with forty years of becoming one with one of the best men I've ever known.

On this gorgeous October, 1963 Sunday, we were on our way home from a weekend of visiting family. As we drove through Shreveport, I told Ronnie stories of past visits to the Shreveport State Fair which was in full swing and how much fun it would be to stop for a while. Ronnie pointed out that we barely had enough money to get home and make it to payday.

"Ann, I don't get paid until Friday. We don't have any money to spend at the Fair."

"I didn't say anything about spending money. I just want to walk around, look at stuff. There is a lot of free stuff. Besides, I think I need to exercise a little bit."

"Are you uncomfortable? Should I stop for a few minutes?"

"Let's do that. I think it is only fifty cents to get in. I don't want to do any of the rides any way. Maybe just go into the buildings, collect some free stuff and look around."

I knew I had won the battle when Ronnie turned at the next corner, headed for the Fair. Once inside, we walked together for a little while. As we went through the tents filled with pies, jellies and other homemade items, Ronnie decided to take a detour.

"Listen, if you don't mind, I'm going over to the car show."

"No, not at all. Go. I'm just going to wander around here a little while. Meet at the gate in an hour?"

"Do you need any money? No. I've got the ten dollars Daddy gave me to cover the cost of the gas home. Besides, I'm not going to spend any money."

Ronnie was barely out of sight before I decided a walk down the mid-way could not hurt anything. I loved hearing the Carnival hucksters shout out in their sing-song way. I stopped to watch one of the barkers.

"Step up. Four darts for only a dollar. Burst three Balloons. Take home a teddy bear. Anybody can do it. Step up. Get your teddy bear. Hey, mister, get your little lady a teddy bear."

He stopped for a moment, threw three darts, and hit three balloons.

"Look at that, ladies and gentlemen! I won the big one, a Teddy Bear the size of that little lady over there." He held up a large stuffed animal " But I have a tent full. You, sir. Come over here and win one for your lady friend. She wants one; doncha, Honey."

I smiled and wandered on down the Midway, stopping to watch the crowds and the barkers. I even took a look at the world's most tattooed man, as I slowly wandered from one tent to the next.. Then I saw a game that looked winnable to me. All one had to do was throw dimes and have them land in one of several plates stacked in the center. The prize was double your bet when all dimes landed in plates. How difficult could that be?

I handed over a dollar and only managed to get three dimes to stay in dishes, so I stopped for a few minutes to watch the barker again as he demonstrated how to launch the dimes so they would land flat. Okay, I've got it now and I handed over another dollar. I did better, five dimes landed in plates.

Another review of the barker's technique, another dollar and another failure. When I was five dollars in, I started to realize I might be at the point of no return. The huckster, being good at his job, spotted my hesitancy.
.
"Ma'am, you are gettin' it. I'm going to make an exception for you."

He then did a little speech to the crowd watching me lose all of my money. "This young lady is about to place her bet of five dollars. When all ten dimes land in plates, she will get her five dollars back, plus ten more. That's fifteen dollars"

He turned to me. "What do you think, ma'am? What about fifteen dollars and you started with ten?"

"I'll do it."

I handed over my last five dollars and he gave me ten dimes. The crowd moved in closer to watch this foolish, pregnant lady throw away her last five dollars.. The first five dimes landed in plates, no problem. Dime number six slid off to the side.

The huckster spoke up: "That's okay, ma'am, get nine in and I'll give your money back, ten dollars."

The next two landed solidly, but number nine missed the mark. Now, I am shaking as I realize I've lost all of my money, after promising my husband of less than one year that I would not be spending any money. Again, the barker spoke.

"Two misses. That's not too bad. Get number ten in there and it's five dollars back in your pocket."

Number ten missed the mark and I burst into tears. The crowd seemed to sympathize with me and there was a little chatter. A nearby policeman saw the commotion and came over.

"What's wrong, ma'am? Are you okay?"

"I lost all of my money and I don't know what to do." I spoke between sobs.

The policeman turned to the Carnival barker. "How much did she lose?"

"Ten dollars. Fair and square, sir"

"Give her back five dollars."

The barker did not protest as he handed to me five dollars and I thanked him and the policeman. Some in the crowd clapped as I headed quickly for the Fair gate.

I saw Ronnie in the distance and began to create stories in my mind to cover the $5, and considered never mentioning it. But our relationship would not allow anything but the truth and transparency. I blurted out my story the minute I got close enough.

"I lost all of our money. I'm sorry. I don't know why I did it. Please don't be mad."

"What are you talking about, Ann?"

Tears filled my eyes until Ronnie began to laugh. At that point, I may have embellished the story a little as I described the barker, the crowd, my performance and the policeman. What could have been an awful day became a treasured memory.

I learned many lessons that day, but the most important one was my husband loved me even when I was not so lovable!

Ronnie, the love of my life, died on January 6, 2003.
Writing Prompt
Write whatever your heart desires on whether love is a disease or a cure, exhausting or invigorating.
Author Notes
Life is a wonderful adventure and mine has been and continues to be such fun! I am fortunate and have been blessed by the loves of my life.