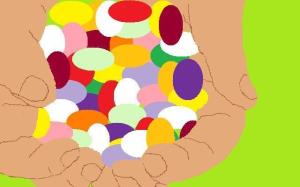 I refilled my candy dish with fresh jelly beans and put the lid back on. Later that day, I went for one, but couldn't believe my eyes. Instead of the pretty beans, I found a pale glob of them massed together. The lid was still on. I was totally dumbfounded.

I asked my young son why the jelly beans looked that way. He answered, "I licked them all so no one else would eat them."
© Copyright 2023. leather All rights reserved.
leather has granted FanStory.com, its affiliates and its syndicates non-exclusive rights to display this work.