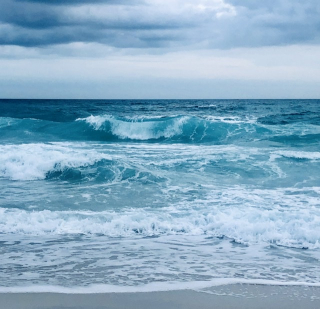 Crystal clear in azure blue,
The skies proclaim God's glory.
While diamonds sparkle in the hue,
Outshining sunshine's fury.
Sunrise,sunset, midday to night,
The glory bids its moment!
Creation shines before my eyes
While mercy shows bestowment!
A knowing in my knower,
Senses Angels are now near.
I sing and dance in Heaven's song,
The message oh so clear;
The gifts of earth all come alive
When worship has our voice.
You may choose a quiet praise-
We all have freedom's choice!
For me to see Creation
as kin in nature's form,
Brings delight to my soul
Like children being born.
The sea, the skies and wind have breath-
We mingle voices strong!
Perfect rhythm plays a beat,
Its ebb and flow a song.
To see, to hear, to feel the tune
Of nature's sweet refrain
A song of praise escapes my lips
It's joy I can't contain!
Come sing with me beneath the sky,
Where rainbows share delight.
I realize I don't dance alone,
The seagulls picked up flight.
They too can soar to nature's song
and glide with silkened wings.
Somehow they know we're not alone,
The wind and surf now sing.
The sand beneath my naked feet
Beholds its own sweet song
Each tiny grain has purpose
In silence, sings along.
You too, Take time to notice-
All of earth and Heaven sighs
to find the joy in nature
as you gaze with heightened eyes.
Be still and know God's bidding
as His whispers fill the air
and angels join the chorus
with every beckoned prayer.
Author Notes
The beach is where I find my peace~