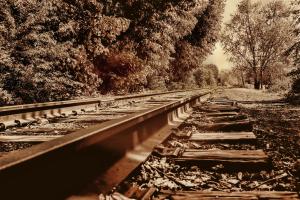 One muscular moment planted a boot
into time and pivoted into the trauma
of twisted metal and a broken brain.
The irreversible crash, the jolt and jerk,
the forehead breaking glass, stopped
the plot of my life dead in its tracks.

After the accident,
flashbulb memories erupted
with an adrenaline surge
and recoil of rage.
Unfaded images intruded
into a walk in the park
or a swim in a lake:
the EMTs jostling my body on a spinal board,
rain clattering on the ambulance,
pickaxe pain stabbing behind my eyes.
Below the searing images,
pre-verbal terror
screamed, scraped, scratched blindly
at primitive shadows lurking in my mind.

After the accident,
in the dead of the night,
stuck at the scene,
I crawled on hands and knees,
trying to piece together
shattered glass.
There were lonely dead-end nights
when redemption meant relief:
the worm at the bottom of a tequila bottle,
a needle in the vein, a razor cut to the wrist.

After the accident,
life rumbled past,
an Iron Horse relentlessly rambling
to a distant end of the line.
My wife landed a promotion,
my kids graduated from high school,
other lawyers closed my deals,
God tore up my prayers and scattered them
like autumn leaves.
I scrambled to keep up. The events
were empty boxcars flashing past
along the tracks. I couldn't ride
the rails, deck a train. I was a drifter,
a hobo listening to the whistle blow
miles away from nowhere.