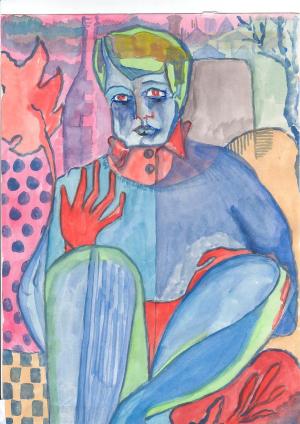 I watch myself
oddly separate
from myself,
one-part plastic mannequin,
the other bleached bones,
the denied death-decayed
child left behind unretrievable
like a waterskin
on an ancient family battlefield.

The synthetic part of me
with cauterized
nerve endings
grips a shiny brass doorknob
locked on the other side,
crinkles paper into a ball
that can't bounce.
I laugh,
500 miles away
from my body,
at the weather channel
as if 72 degrees
was a sitcom.

Shoes without laces shuffle
down
a tile hallway,
liquid thoughts of suicide
seep
through
my mind,
lake water
gushing
through a fisherman's net.
Hot carbon monoxide
silently ramrods
into my lungs.

In the hospital,
I eat a croissant for breakfast,
trying to swallow
the crescent moon,
trying to devour
the emptiness
between myself
and myself.
Writing Prompt
The topic for this contest is: Human suffering.