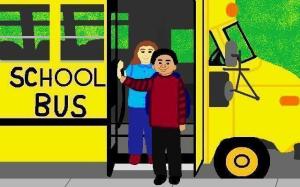 When the bus driver doesn't talk,
She must be wondering about dinner
Or thinking about what to eat for lunch;
Who eats peanut butter and jelly everyday?

When the bus driver doesn't talk,
The noise must not be loud enough
Or she is busy listening to the gossip;
Guess who started the booger volleyball game?

And when the bus driver doesn't talk,
But she looks squint eye at us kids in the mirror;
Everybody knows somebody is in trouble.
However, it wasn't me. Who could it be?
Author Notes
NaPoWriMo April 2021, Day 15 - I didn't follow the writing prompt.

REFERENCES:
1) National Poetry Writing Month April 2021 - https://www.napowrimo.net/
2) How Many Syllables - https://www.howmanysyllables.com/syllable_counter/
3) FanArtReview, Back to School artwork by VMarguarite



© Copyright 2022. sunnilicious All rights reserved.
sunnilicious has granted FanStory.com, its affiliates and its syndicates non-exclusive rights to display this work.